By Kyle Robinson, Senior Strategic Advisor, B.C. Government – Energy & Mines Digital Trust
With various enriching sessions held by multiple ToIP members, Open Source Summit North America 2023 was a great opportunity for ToIP to engage with the open source community, exchange knowledge, and gain insights around the latest trends and developments in the open source world.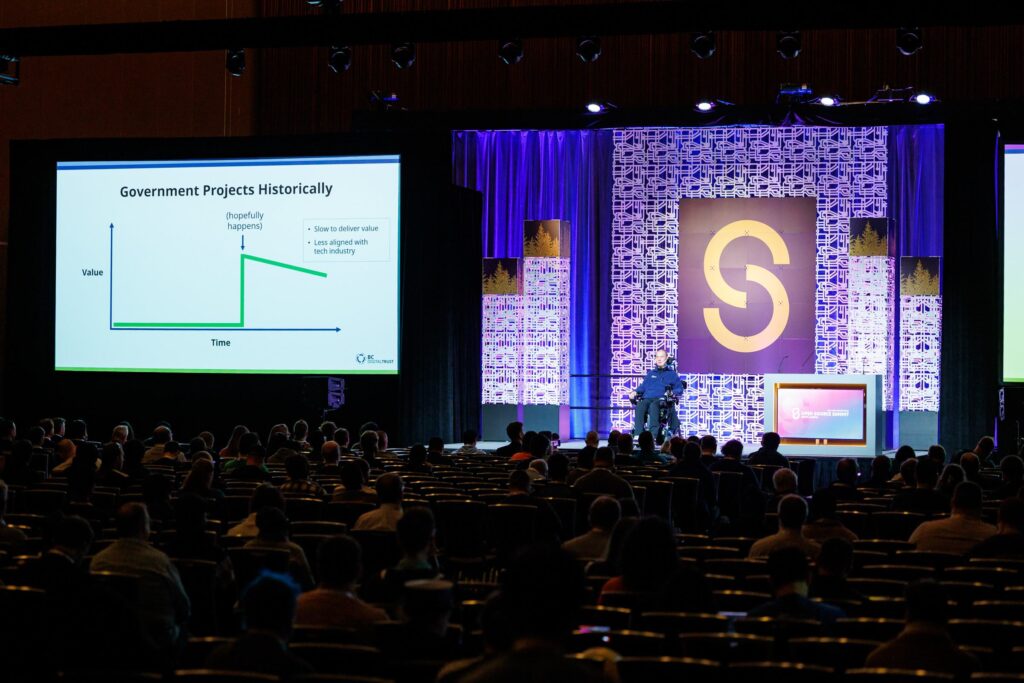 Hosted by the Linux Foundation, OSS North America 2023 brought together over 300 speakers and attendees across 15 micro-conferences, including CloudOpen, ContainerCon, and OpenJS World, among others. OSS allows open source developers and community leaders to come together and address the most important technologies, topics, and issues in open source today.
Some of the top attended sessions included talks on containers, the evolution of open source through design, and how quantum machine learning. A common theme shared across all events was the value of diversity and inclusion in the open source community, as demonstrated by the Diversity Empowerment Summit and the Emerging OS Forum, which focused on underrepresented groups and emerging technologies, respectively.
Working in the digital trust space with the B.C. Government has continued to show me how dedicated B.C. is to open source solutions on their path toward innovative and easy-to-access digital services. John Jordan, Executive Director of Digital Identity and Trust, set the tone for B.C.'s presence at OSS with a keynote on how the government's open innovation approach is allowing B.C. to take public service delivery to the next level. His keynote earned on-stage recognition as 'the greatest government open source success story in the world' from Jim Zemlin, Executive Director of the Linux Foundation.
Other contributions from ToIP included a session by Steering Committee Member Wenjing Chu, Senior Director of Technology of Futurewei Technologies, Inc., highlighting OpenWallet and the strategic role an open digital wallet will play in many aspects of Metaverse services.
Highlight sessions from ToIP members include:
Keynote: Open to Innovation – John Jordan, Executive Director, BC Digital Trust Service
John took the stage at OSS to show how the B.C. Government's open innovation approach is allowing B.C. to fast-track their tech projects and provide user-centric services for the digital economy. In his keynote, he highlights the value of close alignment with the tech industry to enable the provision of accessible and innovative government services. The key: utilizing an open-by-default innovation approach to modernizing teams, policies, procurement, and tools, allowing governments to harness the latest tech to create and deliver user-centric service solutions.
Presentation: OpenWallet and Opportunities in the Metaverse
Presenter
Wenjing Chu, Senior Director of Technology Strategy, Futurewei Technologies, Inc.
Wenjing is a strong advocate and founding member of the new LFEU OpenWallet Foundation with a mission to drive global adoption of open, interoperable, safe and privacy protecting digital wallet technologies. In this talk, Wenjing gave an overview of the new OpenWallet Foundation and its mission, highlight the strategic role an open digital wallet will play in many aspects of Metaverse services, and explore the opportunities it will help bring for consumers, creators, developers, and businesses in the Metaverse.
Panel Discussion: Digital Trust and Sustainable Mining: Securing Global ESG Reporting
Presenters
Aaron Unger, Director of Product Development, Digital Identity and Trust Program, Ministry of Citizens' Services, Government of British Columbia
Kyle Robinson, Senior Strategic Advisor – Digital Trust Ecosystems, Briartech Consulting Inc.
Japjeet Khroud, Senior Sustainability Specialist, Copper Mountain Mining Corporation
I had the pleasure of joining Aaron Unger and Japjeet Khroud on stage to talk about the Energy & Mines Digital Trust project (EMDT) and our work in coordinating a digital trust ecosystem in the natural resource sector. Using digital credentials, EMDT enables companies to share environmental, social, and governance (ESG) data with just a few clicks. The conversation explored how EMDT is creating new tools that empower more secure and efficient voluntary sustainability reporting in the mining sector, enabling companies to prove their sustainable practices and better compete in global markets.
Presentation: BC Wallet App – Powered by Hyperledger Bifold
Presenters
Clecio Varjao, Product Manager, Government of British Columbia
Akiff Manji, Software Developer, Petri Dish Development
The Hyperledger Aries Bifold is an open source, community-driven mobile wallet for the digital credential ecosystem and serves as the foundation of the BC Wallet. In this session Clecio Varjao and Akiff Manji explored the overview of the architecture and the wallet's key features. Their presentation showcased how the Province of British Columbia used Aries Bifold as a framework to build BC Wallet, and how others can leverage it to create their own wallet.
Presentation: Online Identity with Verifiable Credentials and ZKPs Using High School Math
Presenter
Stephen Curran, Open Source Community Lead and Senior Architect, Government of British Columbia
Privacy-preserving digital credentials built on zero-knowledge proofs (ZKPs) can be game changers for digital identity and trust as they enable online trust without tracking. In fact, ZKPs allow entities to prove something is true to another party without conveying any additional information. For instance, a person can prove they are over the age of 19 without revealing the date of birth. In this session, Stephen provided an overview of the AnonCreds project, a high school math level introduction into the magic of ZKPs, and how they enable privacy-preserving online identity solution.
The journey goes on
In conclusion, the response we received in sharing the B.C. Government's work on digital trust alongside contributions from other ToIP members from our home province is a testament to the power of open innovation and the impact it can have on public service delivery. As a resident of British Columbia, I am proud to see our home province recognized on a global stage for their leadership and innovation in open source.
To find out more about BC Digital Trust and their projects and services visit digital.gov.bc.ca/digital-trust or reach out to the team via email at DItrust@gov.bc.ca.