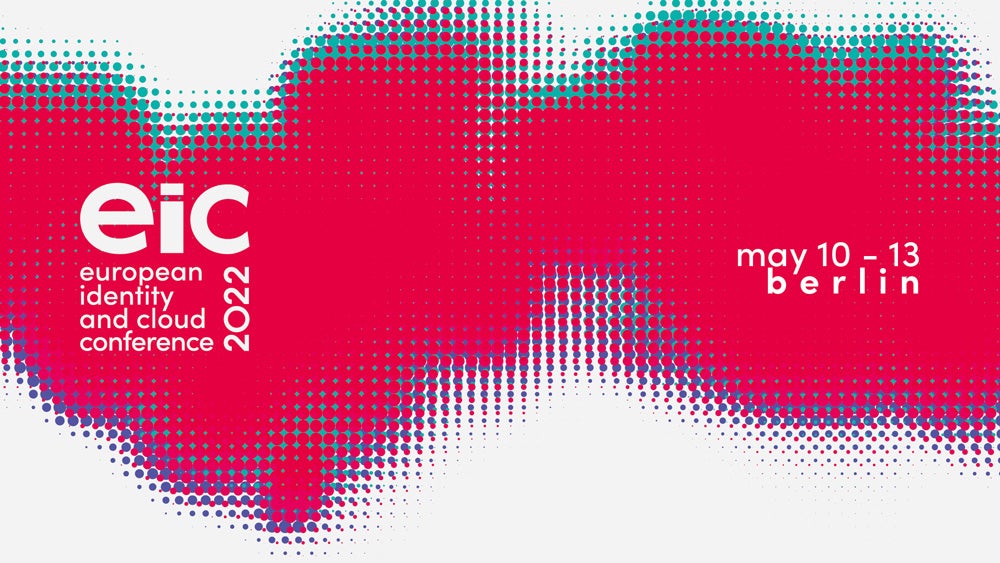 EIC 2022, held May 10-13 at the the Berlin Conference Center, had a strong ToIP presence, including Director of Strategic Engagements Judith Fleenor and Steering Committee members André Kudra (esatus), Bryn Robinson-Morgan (Mastercard), Christine Leong (Accenture), Drummond Reed (Avast), Mike Vesey (IDRamp), and Scott Perry (Schellman). Other ToIP members in attendance included Trinsic, IDunion, and Sezoo.
Our first collective takeaway was that identity conferences are back! This was the first full-scale EIC since 2019, and although still in hybrid form, in-person attendance was very strong. Vendor booths and conference sessions were quite busy, and there were four full tracks on content from midday Tuesday through Friday. "EIC was a wonderful opportunity to connect with colleagues old and new, with a shared mission to advance digital trust." remarked Bryn "I was impressed by the interest in the ToIP stack and the recognition that to achieve interoperability on a global scale we must address both technology and governance issues."
Our second major takeaway was that decentralized identity is a very hot topic. One of the four conference session tracks was devoted entirely to this new branch of the industry, and references to SSI and verifiable credentials were sprinkled throughout the keynotes. André noted: "Federated identity solutions are broadly used globally today and it's great that there's now such huge interest to infuse SSI to it. To ultimately arrive at a truly decentralized online identity world, embracing what's already out there is inevitable."
On that note, Judith spotted numerous examples of SSI terminology being "co-opted" to describe products and services that did not in fact follow SSI and ToIP design principles. This is both a good thing (because the speakers wanted to be associated with SSI) and a bad thing (because they are mis-using the terms).
A third major takeaway was that the world of federation wants to join the world of decentralization. One of the major announcements from the conference was the OpenID Foundation white paper entitled OpenID for Verifiable Credentials. To quote from the OpenID website:
The goal of this whitepaper is to inform and educate the readers about the work on the OpenID for Verifiable Credentials (OpenID4VC) specifications family. It addresses use-cases referred to as Self-Sovereign Identity, Decentralized Identity, or User-Centric Identity.
This theme was further reinforced by a series of sessions on GAIN, the Global Assured Identity Network, whose original white paper described it as an OpenID "federation of federations" that aims to bring "roaming" to existing bank ID networks around the world. At EIC, GAIN was working hard to "broaden the tent", inviting Judith to join their final panel with 11 different speakers talking about the GAIN vision of a globally interoperable network for high-value digital identity credentials.
Judith did a wonderful job speaking to how that vision aligns with ToIP's mission while advocating that, while federation technologies like OpenID are fine for enterprise usage, true global interoperability can best be achieved with a network of networks based on the ToIP protocol stack. She summarized the benefits of using standardized protocols rather than technical API specifications as: "OIDC for the enterprise, ToIP for the Internet".From a ToIP perspective, the highlight was our 40-minute panel called "The Stack, the Stack, the Stack: How ToIP is Enabling Internet-Scale Digital Trust". Judith moderated the panel consisting of André, Bryn, Christine, and Drummond sitting in front of a full-screen image of the ToIP stack.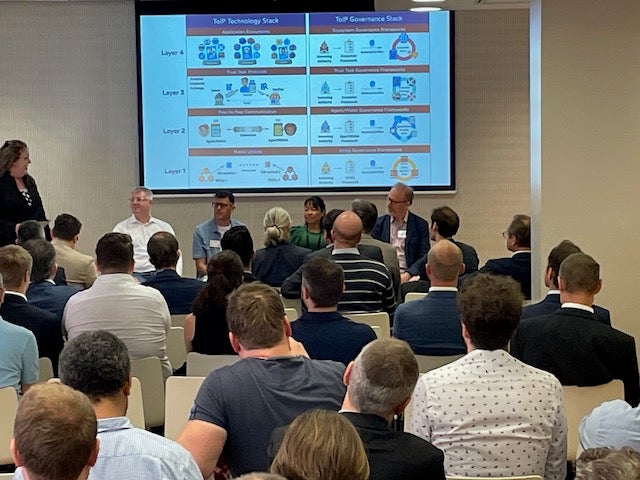 The session drew a packed audience, and this panel format proved to be a very effective way to share the ToIP vision. At the close of the panel, we were swamped with many more questions than we had time for. We spent the next 45 minutes outside the room talking with attendees about the ToIP stack, the ToIP Foundation, and how our solution to interoperability can be applied to the European Digital Identity Wallets initiative.
This strong interest in ToIP reflects our final major takeaway from the conference: the European Digital Identity Wallets initiative is generating intense interest in interoperability. Many EIC sessions touched on different facets of the interoperability questions facing the "toolbox teams" from each of the 27 EU member states working to develop their own digital wallets. Furthermore, these questions are not limited to technical interoperability—governance is also a major concern.
"The privacy-preserving and citizen-empowering advantages of decentralized identity and verifiable credentials are clearly what is driving the EU initiative," said Governance Stack Working Group co-chair Scott Perry. "However much of their thinking on governance is still rooted in federation technologies, so this is an area where ToIP's work on governance frameworks can really help."
As a final highlight, Italian digital identity company Monokee, whose Solutions Architect Dr. Mattia Zago presented on "Hybrid Central/Decentralized Identity: Deployment strategies for SSI", was impressed enough by the ToIP presence at EIC that by the end of the conference Monokee had joined as our newest Steering Committee member.
"Joining the ToIP SC represents a significant milestone for me as a researcher and us as an identity company," said Dr. Zago. "Seeing that the community is aligned with our view of a hybrid integration between federated enterprises' services and decentralized identities further increases our motivation to pursue it. Indeed, we will keep pushing forward our identity orchestrator to provide seamless (and codeless) integration experiences for security engineers."
Welcome Monokee!