A practical guide to ethics in socio-technical systems design
by Kalin Nicolov & Nicky Hickman
Albert Einstein is quoted as saying ,"I do not believe in the immortality of the individual, and I consider ethics to be an exclusively human concern without any superhuman authority behind it." It is fitting therefore, that in the first of our Human Experience Working Group Expert Series we heard from Lisa Talia Moretti, a Digital Sociologist with the Ministry of Justice (UK) with a talk entitled 'Dear Human, The Future Needs You!'.
Ethics doesn't have to be complex, feared or pushed to one side under pressure to ship product or to get an MVP out of the door.  Instead, ethics can be baked into the design process simply by calling on the human in all of us.  After all as Lisa said, *'humans are messy!' Lisa's talk took us on a journey of discovery as to what ethics is (a branch of philosophy), and what ethics is not (religion, law, science or social norms).   Infused with insights and practical examples from UK's Ministry of Justice digital journey around Lasting Power of Attorney (LPA), Lisa's talk included many practical steps that all designers and technologists can take throughout the design process including asking very tough questions, taking time to think things through, and mapping interconnecting systems that are part of the ecosystem you are designing for.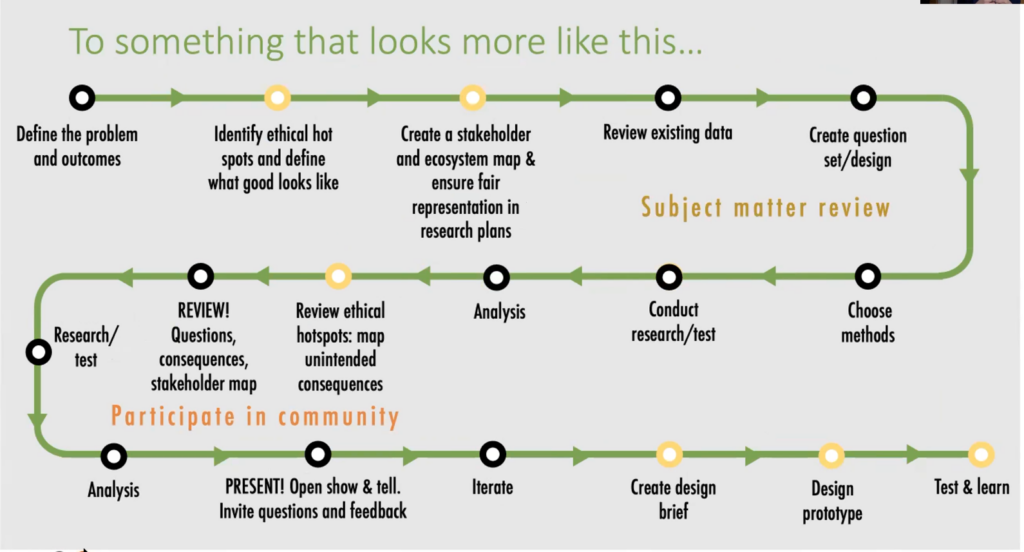 Of course we are not as Albert Camus once said, 'wild beasts loosed upon this world', all of us have a moral compass and a sense of what is right and wrong, no-one intends for their product or service to cause harm. Neither are we superhuman, able to always understand the perspectives of all stakeholders or foresee the consequences of every cool feature or elegant line of code, nor indeed can we forecast how our products and services will be used for good or ill. Lisa called on all of us to remember that "technology is not a product, but a system", and gave us practical steps to help us tap into our innate moral compass and design for those systems with the human experience and human flourishing at its heart.
You can read a summary and watch the video of Lisa's talk here on our Wiki or on our YouTube Channel here.

About Lisa
For more than a decade, Lisa has researched and written about the relationship between technology, information and society for a diverse range of organisations across public, private and third sector. In addition to her role at the Ministry of Justice in the UK, Lisa is an Associate Lecturer at Goldsmiths, Plymouth and Cardiff Universities. In 2020, the British Interactive Media Association (BIMA) named her as one of Britain's 100 people who are positively shaping the British digital industry in the category Champion for Change. She is a member of the AI Council for BIMA, Co-Chair of Sovrin Foundation's Guardianship working group and previously a taskforce member for the All-Party Parliamentary Group for Blockchain Cities.
Links & Further Reading
To Join Trust Over IP and participate in excellent discussion on topics like this just fill out a membership agreement here. If you are already a member of ToIP join the Human Experience Working Group.