The mission of the Trust over IP (ToIP) Foundation is to define an overall architecture for Internet-scale digital trust that combines cryptographic assurance at the machine layers (technology) with human accountability at the business, legal, and social layers (governance). Together these two halves form a complete four-layer architecture for decentralized digital trust infrastructure known as the ToIP stack as shown in this conceptual diagram: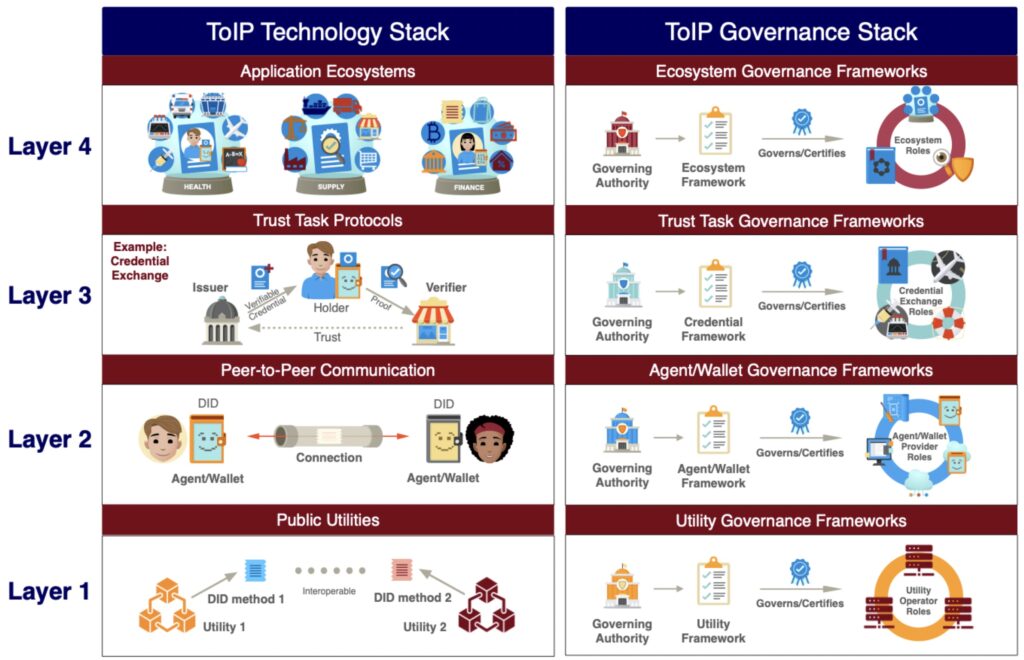 The launch of the ToIP Foundation in May 2020 was the beginning of a multi-year process of formally defining the ToIP stack. This process is described in depth in a separate living document called Evolution of the ToIP Stack. We recommend reading it to gain a full understanding of the progression of deliverables from the ToIP Foundation.
The normative architectural requirements for the ToIP technology stack (the left half of the figure above) are defined in the ToIP Technology Architecture Specification from the ToIP Technology Stack Working Group This document is available in two formats:
Public Review Process
The ToIP Foundation announced the first public review draft of the ToIP Technology Architecture V1.0 Specification on 14 November 2022. We invite anyone interested in helping to improve this specification to comment via an open public review process. Just follow these steps:
Identify the section(s) of the specification upon which you wish to make a comment or suggest an improvement.
Go to the GitHub Issues page for the ToIP Technology Architecture Specification.
Review the list of open issues to see if there is already one pertaining to the section(s) upon which you wish to comment. If so, just click on that issue, scroll to the bottom, type your comment, and click "Comment".
Otherwise, follow these instructions for creating a new issue. Please prefix the name of your new issue with the section number to which it pertains, e.g., "Section 6.4:…"
The first time you submit a comment or a new issue, you will need to agree to the Contributor License Agreement in order to keep the specification open and royalty free for all.
If you do not wish to comment, but rather ask a question or start a discussion related to the ToIP Technology Architecture Specification V1.0, you can do so via the Github Discussions page. If you wish to become directly involved in drafting future versions of the ToIP Technology Architecture Specification, we invite you to become a member of the ToIP Foundation.